Litchi Tree Honey
Litchi Tree Honey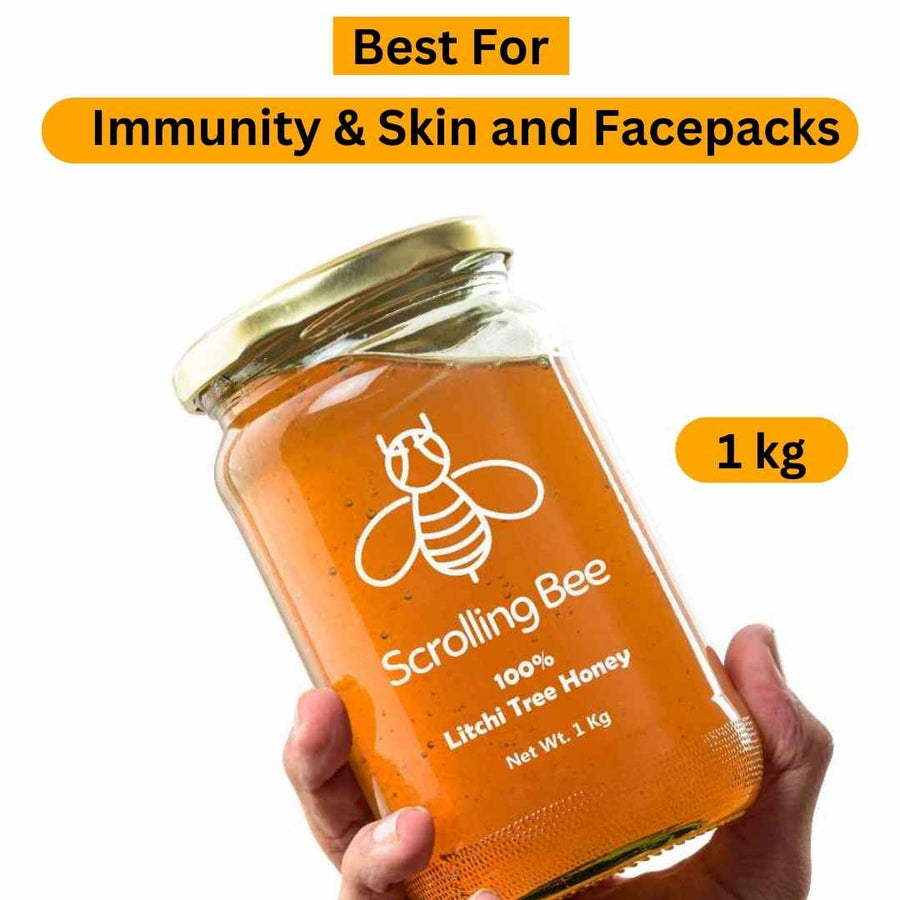 Litchi Tree Honey
Litchi Tree Honey:   👉This honey is harvested from the beehives in the thick Litchi...
Regular price Rs. 1,199.00 Sale


Litchi Tree Honey:
👉This honey is harvested from the beehives in the thick Litchi plantations in Punjab. Litchi honey is amber in color & is monofloral.
👉Litchi honey crystallizes when it's cold or kept in the refrigerator. This honey is harvested in March & April in India. Litchi honey has a tangy taste.
Benefits:
👉 Antioxidant Potentials.

👉 

Promote Hair Growth
👉 Excellent for 

Skin nourishment

👉 Used in Face packs & Face masks

👉This honey is a product of nomadic beekeeping and is produced naturally.

👉It is single strained to retain maximum pollen and propolis
In this Package:
👉You will receive raw unprocessed ready to use honey.
👉No preservative - No Artificial color
👉This product is edible.
What is Raw Honey?
It is straight-out-of-the-hive honey. During the Honey harvesting season, we extract this raw honey in Vessels and store it at our facility. Raw Honey is unprocessed.
Are these added Honey Flavours?
We have not added any Flavours to the Honey. The product name is derived from the flower source from where honey is extracted.

For Example, Litchi Tree Honey is extracted from Litchi Tree Flowers, Rosewood Tree Honey is extracted from Rosewood Tree Flowers.

These are 100% raw and unprocessed honey without any additional flavors or coloring.





What is your Money Refund policy?
We have a 30-day money refund policy. If you don't like the products you purchased, you can return them within 30 days for a full refund.
Which all locations do you deliver to?
Currently, we are sending our products to all pincodes in India
Shipping Charges and Delivery Time:
Shipping is free on all orders. Orders are delivered in 4-5 days across India.
Good product
Have been consuming this Honey, have tried most of the natural flavours and have liked it a lot.
Good job
Honey seems to be pure . Its Good to find high quality products .
Loved the litchi honey!!
Thanks a lot for this. It's great taste and quality...
Litchi tree honey
Very nice product. I love it
Whole Honey
The honey flavour n quality was awesome