Ajwain Honey
Ajwain Honey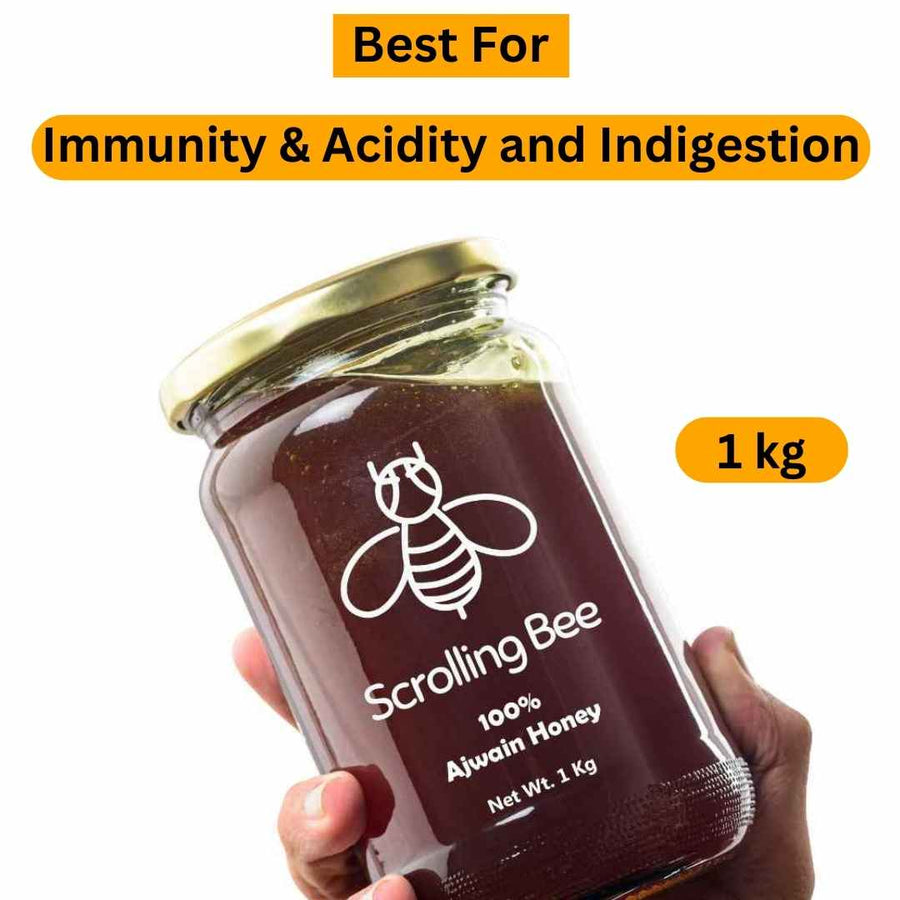 Ajwain Honey
Carrom-Ajwain Honey:   👉Carom honey is extracted from the plantations of Ajwain in December in North...
Regular price Rs. 1,199.00 Sale


Carrom-Ajwain Honey:
👉Carom honey is extracted from the plantations of Ajwain in December in North India. Ajwain honey has excellent health benefits for common stomach problems. It has a slightly bitter taste.
👉 Ajwain Floral Honey is naturally extracted & filtered to remove external impurities and consequently holds all the beneficial immunity-boosting enzymes, antioxidants and minerals.
Benefits:
👉Help reduce acidity

👉 

Provides relief from gastric troubles

👉promotes overall good health

👉

reduces Indigestion

👉Cure Stomach Aches

👉This honey is a product of nomadic beekeeping and is produced naturally.

👉It is single strained to retain maximum pollen and propolis


In this Package:
👉You will receive raw unprocessed ready to use honey.
👉No preservative - No Artificial color
👉This product is edible.
What is Raw Honey?
It is straight-out-of-the-hive honey. During the Honey harvesting season, we extract this raw honey in Vessels and store it at our facility. Raw Honey is unprocessed.
Are these added Honey Flavours?
We have not added any Flavours to the Honey. The product name is derived from the flower source from where honey is extracted.

For Example, Litchi Tree Honey is extracted from Litchi Tree Flowers, Rosewood Tree Honey is extracted from Rosewood Tree Flowers.

These are 100% raw and unprocessed honey without any additional flavours or colouring.





What is your Money Refund policy?
We have a 30-day money refund policy. If you don't like the products you purchased, you can return them within 30 days for a full refund.
Which all locations do you deliver to?
Currently, we are sending our products to all pincodes in India
Shipping Charges and Delivery Time:
Shipping is free on all orders. Orders are delivered in 4-5 days across India.
Very good honey
I like the quality and service
very nice
honey is excellent and its purely raw honey i am a repeated customer to this honey 4th time
Loved it
The ajwain honey is amazing and I have asked naresh to give me more options for the reserved honey, I normally go with the 2.5kg pack and this. Omoany is ll
Taste is good and product is genuine
Nice
Been using scrolling bee for the last one year. Very happy with the quality
Simply awesome
Great taste. Completely natural.