2.5 Kg Raw Honey - All Types Available
2.5 Kg Raw Honey - All Types Available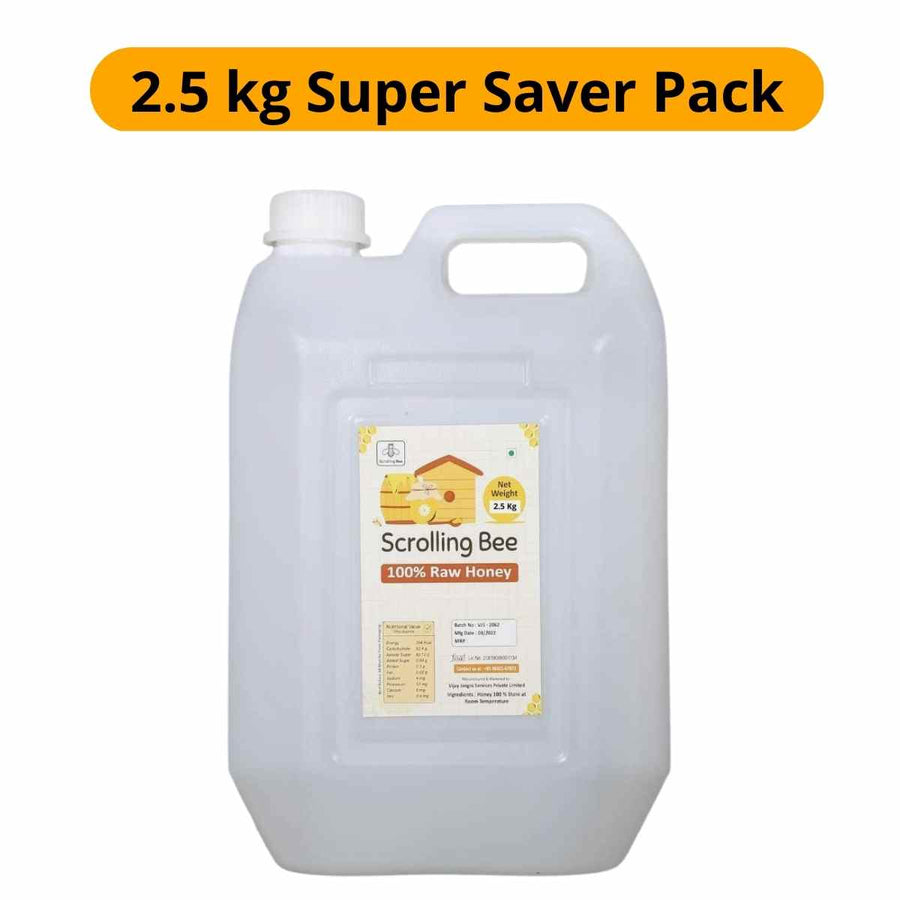 2.5 Kg Raw Honey - All Types Available
2.5 Kg Raw Honey:   👉 Honey Varieties available: Ber Tree Honey, Rosewood Tree Honey,...
Regular price Rs. 1,699.00 Sale


2.5 Kg Raw Honey:
👉 Honey Varieties available: Ber Tree Honey, Rosewood Tree Honey, Wild Flower Honey. Litchi Tree Honey, Eucalyptus Tree Honey, Ajwain Honey
👉 Delivery in 5-6 Days
Benefits:
👉Best for Bulk Purchase

👉Best for Reselling

👉Best for Big Families
In this Package:
👉You will receive raw unprocessed ready-to-use 2.5 kg honey of single Jerry Can.
👉No preservatives

👉No Artificial color

👉This product is edible.


What is Raw Honey?
It is straight-out-of-the-hive honey. During the Honey harvesting season, we extract this raw honey in Vessels and store it at our facility. Raw Honey is unprocessed.
Are these added Honey Flavors?
We have not added any Flavors to the Honey. The product name is derived from the flower source from where honey is extracted.

For Example, Litchi Tree Honey is extracted from Litchi Tree Flowers, Rosewood Tree Honey is extracted from Rosewood Tree Flowers.

These are 100% raw and unprocessed honey without any additional flavors or coloring.



What is your Money Refund policy?
We have a 30-day money refund policy. If you don't like the products you purchased, you can return them within 30 days for a full refund.
Which all locations do you deliver to?
Currently, we are sending our products to all pincodes in India
Shipping Charges and Delivery Time:
Shipping is free on all orders. Orders are delivered in 4-5 days across India.
Amazing
The taste and nature of honey is natural and its really awesome for helth.
Thanks to scrolling bee for raw honey. I loved it.
2.5 Kg Raw Honey - All Types Available
2.5 Kg Raw Honey - All Types Available
2.5 Kg Raw Honey - All Types Available
Pure Honey
It's the best in the market today…pure Honey
2.5 Kg Raw Honey - All Types Available
2.5 Kg Raw Honey - All Types Available
2.5 Kg Raw Honey - All Types Available